What To Do
#1 – Learn about the law, both at the Federal level and those in your state:
This map represents the current status of state law in the US: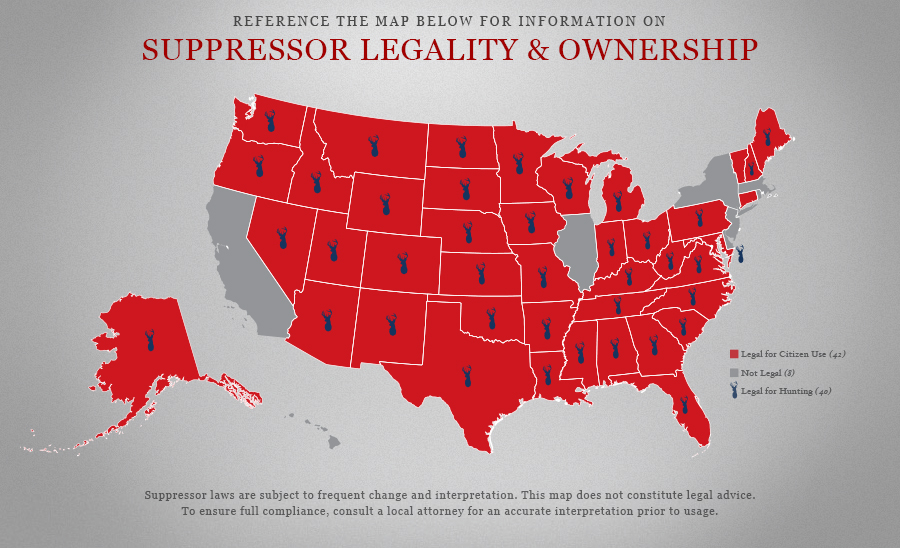 Learn more about the path to approval that best suits you:
http://americansuppressorassociation.com/education/
#2 – Decide which Silent Legion suppressors and accessories are right for you:
http://www.silentlegion.com/products
#3 – Enlist in the (Not So) Silent Legion:
On January 9, 2017, Rep. Jeff Duncan and Rep. John Carter reintroduced the Duncan-Carter Hearing Protection Act of 2017 (H.R. 367), to cut through the unnecessary red tape on owning firearm suppressors. The Duncan-Carter Hearing Protection Act will remove suppressors from the scope of the National Firearms Act (NFA), replacing the outdated (and manual) federal transfer process with an instantaneous National Instant Criminal Background Check (NICS). The bill also includes a provision to refund the $200 transfer tax to applicants who purchase a suppressor after October 22, 2015, which was the original date of introduction. In stark contrast, many countries in Europe place no regulations on their purchase, possession, or use. While in Namibia last year, we were stunned to watch a teenager walk into a gun store, pick up a suppressor off the shelf, pay for it (with no outrageous tax, by the way), and walk out…all legally!
As we fight for our right to shoot quietly, we need your help to make sure our voice is heard loud and clear on Capitol Hill. Please take the time to fill out the form below so that you can send an email to your Representatives and Senators to let them know that you support the Hearing Protection Act.
At Silent Legion, we will be visiting our congressional delegation, as some of them sit on influential committees, to exert pressure from this side. Let's get this common-sense legislation sent to the White House for signature. It's way past due.
http://americansuppressorassociation.com/hearing-protection-act/
#4 – Join the American Suppressor Association:

The American Suppressor Association (ASA) is the unified voice of the suppressor industry. Our mission is to unite and advocate for the common interests of suppressor manufacturers, distributors, dealers, and consumers. To accomplish our mission, our principal initiatives focus on state lobbying, federal lobbying, public education, and industry research.
For three years, the ASA has worked to ensure and expedite the passage of pro-suppressor reform across the country. We will continue to work until all of our objectives are complete.
To learn more about the ASA, go to:
http://americansuppressorassociation.com/about/
To jump in and join the fight, go to: